PEI Electronic Sales, Inc. was formed in 1995 and is owned and managed by one of the original founders, Linda Torjesen.   PEI is a dependable rep firm with a stable, experienced sales team.
We understand that the key to growing our manufacturer's business in the territory requires a combination of the following:
Service existing business

Work to increase penetration within existing accounts

Find new customers

Help customers find effective design solutions
For a complete listing of PEI employees, please click here.
The territory we cover consists of the states of Texas, Oklahoma, Arkansas and Louisiana. The map below shows the territory as well as indicates the concentration of the key customer base.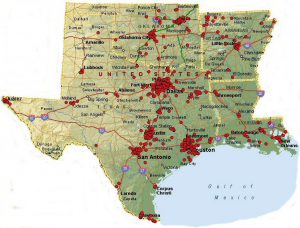 PEI Electronic Sales, Inc. • Flower Mound, Texas  75022 • (972) 355 -9905 •